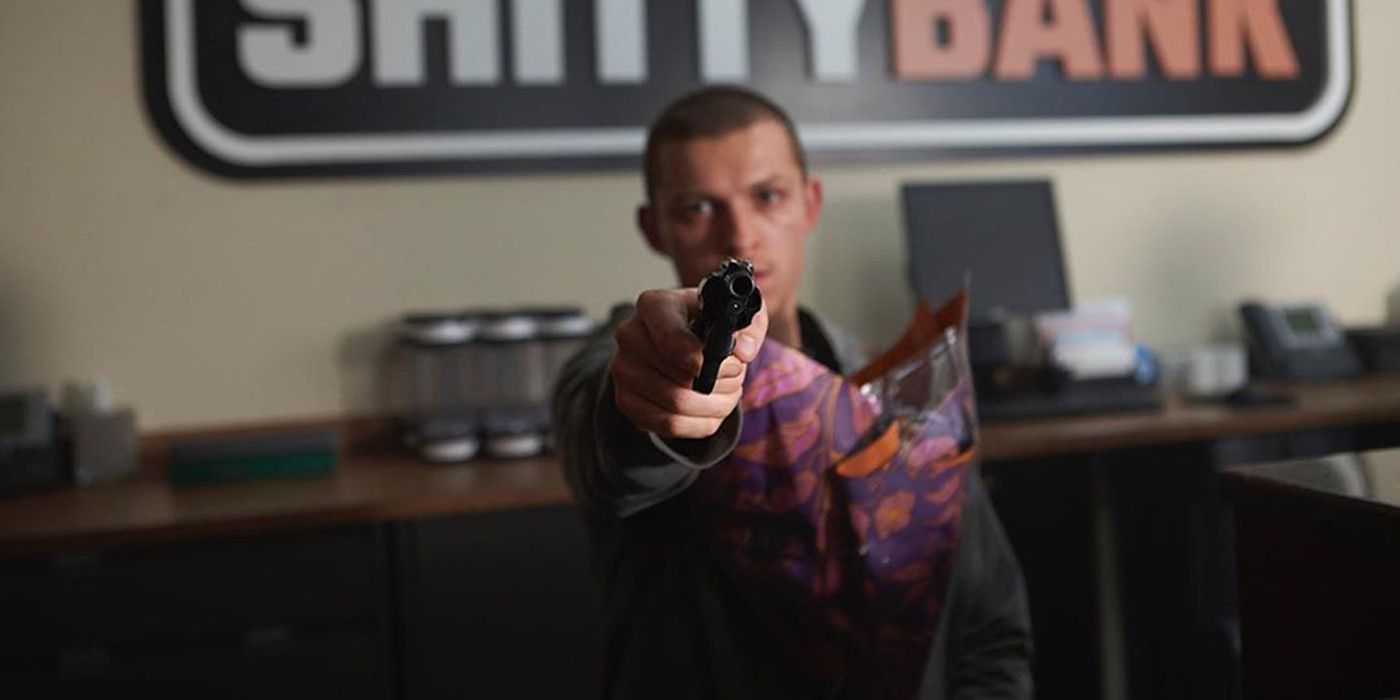 Tom Holland is definitely not Peter Parker in the first image from The Russo Brothers' new movie Cherry. Holland firstly came on the scene as the son of Ewan McGregor and Naomi Watts in the 2012 tsunami drama The Impossible, but of course his busines genuinely flew when he was chosen to portray Peter Parker as Spider-Man officially attached the MCU in Captain America: Civil War.
After debuting his Parker in a brief but memorable Civil War look, Holland was given the chance to carry his own movie with 2017 's Spider-Man: Homecoming, and proved that he indeed was the right man to play the webslinging superhero. Holland's Spider-Man arc turned regrettable thanks to Thanos in 2018 's Avengers: Infinity War, but of course he was resurrected along with all the other dusted heroes in 2019 's epic Avengers: Endgame. Holland experienced a Spidey two-for-two in 2019 when he returned to head up Spider-Man: Far From Home, but then obtained himself in the middle of a real life drama as Disney and Sony tussled over the rights to Spider-Man, leaving Holland's future in the MCU very much in doubt. Luckily for Spidey devotees, things are ultimately used to work and Holland gets to remain part of the MCU for Spider-Man 3.
Related: Spider-Man Fan Outcry Encouraged Disney& Sony's New Deal
In the meantime, Holland has picked up a very different role in Cherry, the upcoming film from Infinity War and Endgame conductors the Russo Friend. Devotee already got a taste of Holland's dramatic new look in the movie, and now a brand-new persona really debuted by Holland himself on Instagram underlines the fact that the actor isn't playing the clean-living part Peter Parker this time around. See the portrait in the opening below 😛 TAGEND
Co-starring Bill Skarsgard, Jack Reynor and Michael Gandolfini, Cherry concerns a onetime Army medic( Holland) now suffering from PTSD who is forced into a life of bank robbery due to crippling debt brought on by drug addiction. Based on the autobiographical bible by Nico Walker, who is currently serving time in prison for bank burglary, Cherry clearly represents a sharp-worded left turn for both Holland and the Russos, as they move away from the world of superheroes into a much grittier, more desperate macrocosm of real world difficulties, where the struggle against mental illness, addiction and fiscal woes can't simply be solved by snapping one's fingers.
It's patently obvious that Holland and the Russos are trying to branch out with Cherry and prove they can do more than time generate epic popcorn amusement. It remains to be seen if audiences are willing to go on this new ride with them, or if Spider-Man and MCU love prefer to stick with the fantasize rather than face the crushing actualities of everyday life as depicted in Walker's story. Either way, signing on for Cherry is an interesting move for Holland and it will be fascinating to see if he plucks off the role.
More: MCU: 10 Spider-Man Scenes That Prove He's The Best
Cherry is set to collision theaters on January 1, 2020.
Source: Tom Holland/ Instagram
Read more: screenrant.com